TESOROS
Treasure Hunting and Prospecting
¿Sabes de algún tesoro enterrado? Do you know of any buried tresor?
¿Conoces historias de tesoros? Do you know any treasure stories?
¡Vamos a buscarlo! Lets find it!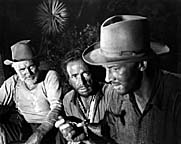 A Memoir of the California Gold Rush
Libros, Books:
| | |
| --- | --- |
| | |
Hágase gambusino, Gold panning
Localice oro, Gold prospecting
Cualquier comentario a esta página, por favor mándame un emilio a scaldero@avantel.net.
Any comments about this page, please send them to scaldero@avantel.net
· Home · Petróleo · Ingeniería · Tecnología · Magia · Astronomía · Buceo · Apicultura · Sericultura · Relojería · Joyería · El modelo del Titanic · Geología, Paleontología, Evolución y Ciencias Naturales · Buscar tesoros · Arqueología · Nahuatl · Títeres · Ventriloquía · Tallado de un muñeco de ventriloquia · Nora · Diego · Francisco · Luisa · Paco · perros